| | |
| --- | --- |
| Client: | Crystal City and Golden Triangle Business Improvement Districts (BIDs) |
| | |
| --- | --- |
| Project: | Strategic Planning Initiatives, Arlington, Virginia and the District of Columbia |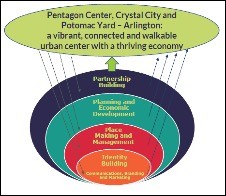 Provided: 1) an and an arts and entertainment framework report for the Crystal City BID; and 2) an office-to-residential conversion analysis for the Golden Triangle BID.
Crystal City BID Strategic Plan, Arlington, VA. Bolan Smart participated in a collaborative strategic planning process aimed at creating an Action Agenda to guide the continuing transformation of the Crystal City, Pentagon City and Potomac Yard area (aka National Landing). Emphasis was placed on how to cultivate arts and entertainment through guiding principles, such as increasing density, creating special-use districts, reinforcing existing attractions, being the go-to place for trending concepts and creating a platform for big ideas.
The primarily purpose of our work for this analysis was to assess:
Potential cultural, entertainment and other resource development opportunities that might complement the economic base of Crystal / Pentagon City / Potomac Yards (CC/PC/PY).
The catalytic role that added cultural etc. related destinations might serve; what makes cultural amenities tick at a location / project specific level benchmarks (including $$); sustainability and regenerative potential; attractions that generate their own demand, etc.
The need for additional cultural attractions including performance venues for theater, music, and other forms of creative expression. Besides identifying potential uses, the study also indicated possible ways in which the development of these facilities could be financed.
How to better position Future Cities to capture more arts and entertainment venues going forward. Is the scale of the existing Future Cities real estate marketplace in balance with its current amenity base in comparison with nearby locations and other proxy locations?
Golden Triangle Business Improvement District Office-to-Residential Conversion Analyses, Washington DC. Bolan Smart analyzed opportunities to convert existing office buildings into residential. As part of this analyses, an economic model that assesses the financial feasibility of conversion was created using factors such as "as is" acquisition costs, additional investment, required return on costs, and market supported values. In addition, a conversion matrix was developed that includes location and neighborhood criteria, building specific characteristics, occupancy factors, financial parameters and regulatory incentives. The matrix has been applied to different redevelopment gap thresholds which may or may not be closed based on a layering of policy, regulatory and financial incentives, to make office building conversions financially feasible.