| | |
| --- | --- |
| Client: | City of Charlottesville |
| | |
| --- | --- |
| Project: | Strategic Investment Area Plan, Charlottesville, Virginia |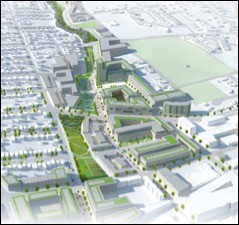 Conducted a market analysis which included information on existing conditions related to area demographics, housing stock, employment and land uses within a defined study area for the City of Charlottesville to develop a master plan for a mixed-use neighborhood adjacent to the Downtown Mall.
The Strategic Investment Area Plan for the City of Charlottesville was adopted in February 2014 after a yearlong community engagement process let by Cunningham Quill Architects.  The SIA Plan is a multi-layered vision plan for Charlottesville's former historic industrial center.  Characterized by under-utilized industrial buildings, vacant lots, and aging public and voucher housing on super blocks, the 330-acre plan area exhibits challenges with economic indicators in population density, incomes, education levels, and homeownership rates lower than for other areas of the city. Informed by more than forty community and stakeholder meetings, the SIA Plan proposed a blueprint structured around three major framework concepts: 1) an ecological corridor; 2) a retail economic and community services connector; and 3) new mixed-income neighborhoods.  Findings of the existing conditions report served as a basis to evaluate specific development / redevelopment opportunities.  Several community meetings were integral to identifying and addressing the needs of the local community.  Implementation of the plan specified likely timing and phasing of the different development components. The plan addressed:
Economic development potential keyed to connecting to Charlottesville's adjacent downtown mall.
Protecting neighborhoods and affordable housing.
Highlighting economic benefits of sustainability, ecology and gathering spaces.
Creating opportunities for innovation and creator / maker space in existing buildings.