| | |
| --- | --- |
| Client: | Maryland Department of Transportation (MDOT) |
| | |
| --- | --- |
| Project: | Odenton Town Center Financial Analysis and Other Valuations, Anne Arundel, Howard and Montgomery counties and City of Baltimore |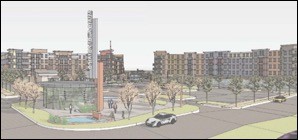 Advised MDOT on market feasibility, highest and best use analysis, deal structuring involving joint development sites and private development partner negotiation strategy.  Tasks undertaken for the Odenton Town Center project were threefold: 1) completed a highest and best use valuation analysis of a 12-acre parking lot adjacent to the Odenton MARC Station; 2) prepared an incremental tax / economic impact analysis of the proposed development to determine the benefits of the project to Anne Arundel County; and 3) provided an independent review of developer proforma /  financial budgets for the proposed project to assist with developer negotiations.  As part of this disposition due diligence analysis, the Odenton Town Center Master Plan was reviewed for project compliance.  MDOT executed a joint development agreement in the fall 2016.
Additional MDOT disposition due diligence work focused on property valuations, including but not limited to:
provided an opinion of value for the Motor Vehicle Administration Headquarter site in Glen Burnie;
evaluated the highest and best use of a vacant wooded lot adjacent to the Savage MARC parking lot in Annapolis Junction;
conducted a valuation analysis of the Reisterstown Plaza Metro Plaza, a site improved with a commuter parking lot; and
performed a highest and best use analysis of a Park & Ride commuter lot in Montgomery County "as if" vacant as well as valuing the property subject to the current lease to Montgomery County.
Other work addressed general MDOT real estate practices and policies.  Examples include: achieving fair market value for land contributions; cost recovery; participating in project upside; and, general guidelines for negotiating TOD projects.  Additional project responsibilities included enhancing MDOT's RFP process, interaction with local governments, and positioning MDOT initiatives before the Maryland Board of Public Works and the State Assembly.  Prior to MDOT, for over ten years, Bolan Smart functioned as the primary real estate consultants for Washington Metropolitan Area Transit Authority, advising on possible public-private deal structuring and development feasibility for over two dozen proposed joint venture projects.